House Calls
Please Note: We've suspended small animal house call service during COVID-19.
Where We Travel
Small animal house call service is available throughout most of Burlington and Ocean Counties. Just set up an appointment, and our veterinary team will come right to your home!
(Please note: we do house calls by appointment only; due to scheduling constraints we are often not able to accommodate same-day requests.)
Animals We Treat on House Calls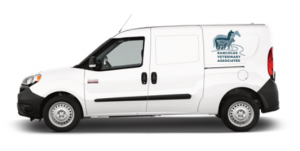 House Call Services
We can visit your cats, dogs, and other household pets for:
Routine Checkups
Vaccinations
Flea/tick and heartworm prevention
Health certificates (including for international travel)
Lab testing (blood and fecal testing, urinalysis, etc.)
Treatment of minor injuries and illnesses
Hospice care and in-home euthanasia
Pricing
We strive to keep our prices affordable!  The majority of our prices are the same on house calls as they are in the office.  These are some commonly requested prices, but if you're looking for something else just give our office a call.
House call charge – $45 (per visit, regardless of the number of pets)
Exam: $58 ($52 per pet if there are multiple animals)
Vaccines: Rabies $22, Canine Distemper $25, Lyme $34.50, Bordetella $19.75, Feline Distemper $22.50
4DX (heartworm/lyme/anaplasmosis/ehrlichiosis) Test: $38
Feline Combo (FeLV/FIV/heartworm) Test: $42
Fecal Ova/Parasite Test: $30.50 ($40.50 w/ giardia)
Nail Trim: $16
In-Home Euthanasia (includes exam, procedure, claw paw imprint): $235
(Cremation options are available, please contact the office for pricing)
*Current as of Feb. '20*
For more intensive medical and surgical care, you can bring your family pet into one of our hospitals.  We also see horses and livestock on farm calls!
Contact Us
For questions about our house call service, or to set up a house call appointment with our staff, contact us by phone (609-261-7280) or by email (mail@rancocasvet.com). Remember: We're open for routine small animal care at our office locations as well!